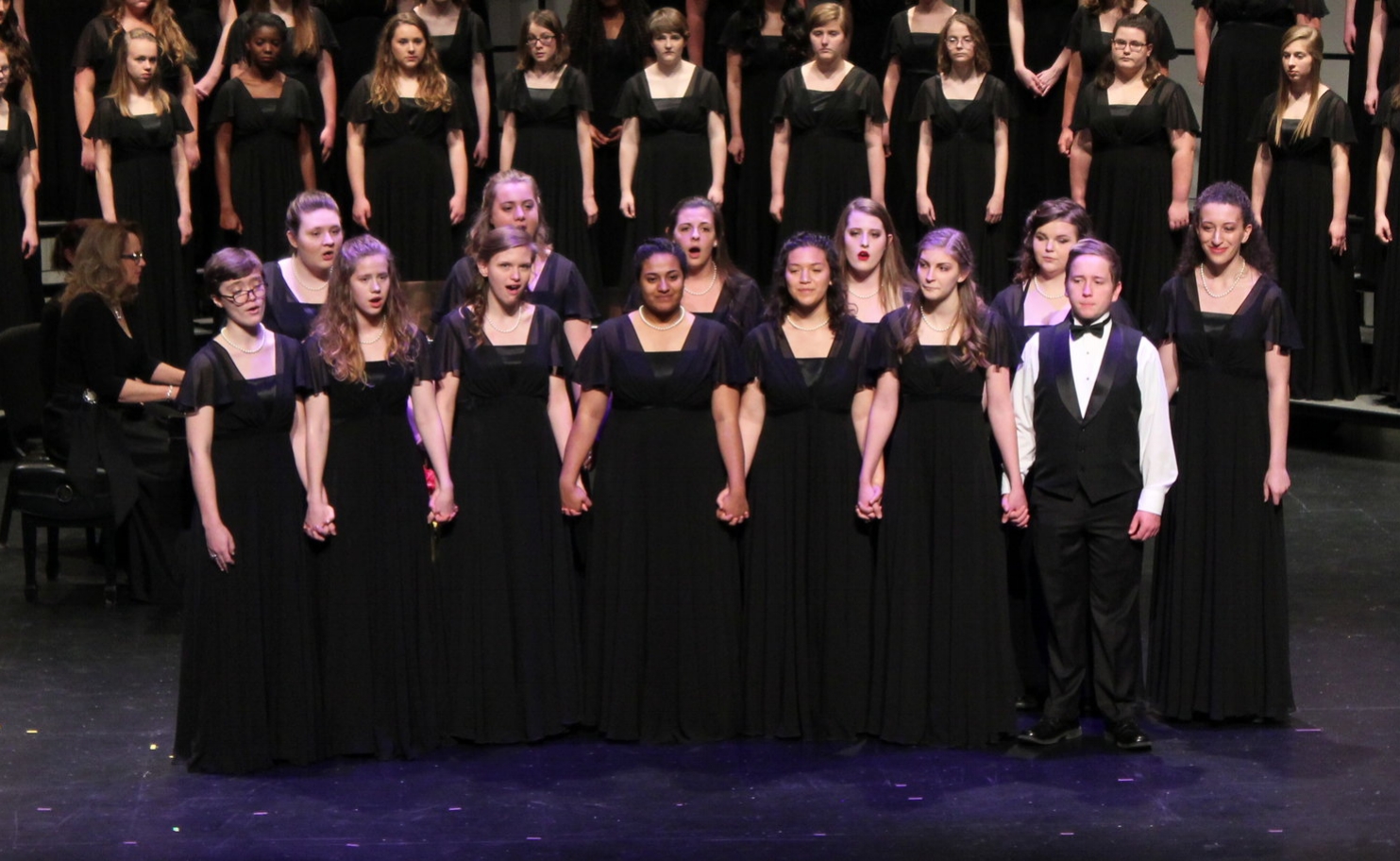 All singers new to the choir will need to purchase a new or used formal costume through the RVCC. This is what we wear for our concerts!
Girls
Each choir has their own specific formal concert dress. There are several costume ordering days in the RVCC where you can come, try on a sizing line dress, and order either a new or used dress through the choir.
Dresses by Choir:
A & B Choir dress: "Jordan" $71
(plus $7.50 for extra length if needed)

B+ Choir dress: "Crescent" $63(youth), $70 (adult)

C Choir Dress: "Enchanted" $100

C Choir girls will wear white pearls (All pearls are kept by the choir costume committee; they are distributed at the performances, and must be turned in after each performance. Please do not bring your personal pearls, the only pearls allowed are the pearls the costume committee provides.)
All Choirs - To complete the concert attire each choir member is responsible for obtaining the following items:
Black hose OR black knee highs

Black dress shoes, low heeled, closed toes, and no ornamentation, and comfortable. Black flats are the best choice.
All Choirs - Notes:
The bottom of your dress should be hemmed one inch from the floor with your concert shoes on. The hem should fall on the top of the shoe or barely above the shoe. If your dress is more than two inches from the floor, please consider re-hemming the dress or buying a new dress.

Hair should be clean, neatly brushed, and pulled back away from your face.

Hair bows are optional, but if worn, should be black

You should not wear any perfume or jewelry. The only pearls allowed are the pearls the costume committee provides
Boys (all choirs the same)
All boys will wear the traditional concert attire purchased new or used from RVCC:
White Tuxedo Shirt with the black buttons: $16.50

Black Tuxedo Vest: $33

The black vest should fall just below the belt in the center front. Hair should be neatly combed.

Black Bow Tie: $3.50
To complete the concert attire each choir member is responsible for obtaining the following items:
White, long-sleeve dress shirt

Black dress pants (black belt is optional)

Black dress shoes

Black Socks
Notes:
Hair should be clean and neatly combed.

You should not wear cologne.

For alterations - Laura Divers is great, and her number is 540-462-7547. Her business address is 1424 Roanoke Road, Daleville.
To Sell A Used Concert Dress or Boy's Vest/Tie
Have the item cleaned and on a hanger with a plastic cover from cleaners.

Provide a self-addressed, stamped envelope stapled or pinned to the tag of the garment.

Decide on a price. If the item is in good condition, half the original price is reasonable (about $35 for the dress and $15 for the vest/tie)

Bring your costume and envelope to the Costume Team in the RVCC room at Bethel Baptist Church at the specified dates. Be prepared to stay a few minutes to fill out an information sheet.

If your costume sells, the buyer will write a check to you and we willmail it to you in your self-addressed stamped envelope.

If your item does not sell we will send you a note with when and where you can retrieve your item(s).
For informal choir performances, choir trips, and special rehearsals, RVCC choristers wear their informal choir uniform. From head to toe; well -groomed and fixed hair, the RVCC "Come and Sing" T-Shirt, your best and darkest jeans, and your best sneakers!
All Choristers need to purchase the current Choir T-Shirt.
Choir T-Shirts will be available to purchase on Active Network at certain times.
T-Shirts will not be available to purchase during rehearsals.
T-Shirt Prices:
A/B/B+ (Light Blue): $15 ($18 for 2XL or 3XL)

C Choir (Grey): $17 ($20 for 2XL or 3XL).